Online Banking
Personal Log In

Forgot your ID or password? User ID: Retrieve Online Password: Enter your ID and reset password on the next screen.

Business Log In

Forgot your ID or password? Company or User ID: Call 864-679-9000. Password: Enter your Company and User ID to reset your password on the next screen.

Convenient banking on a first-name basis
Everything you need to make managing finances more pleasant.
Economic Update: Q1 2021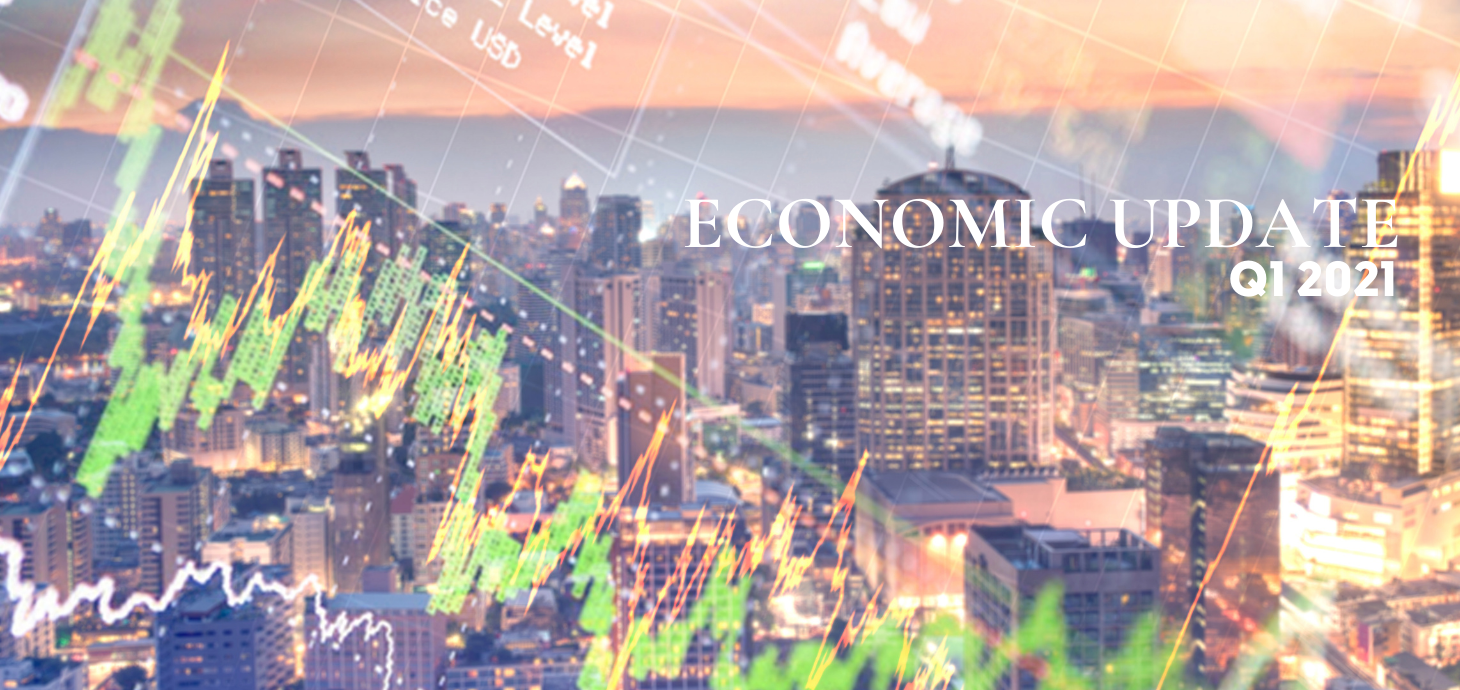 Friends, we made it.
2020 came, saw, left its deep marks, and passed. No doubt we all still live with those marks – they are real and painful and in many cases continuing in 2021. Economically, the turn of the year does not mean that much changes just because the calendar flipped; we still face the same trends that were major themes in 2020. However, there are things afoot that may impact how the new year evolves in our economy that we want to highlight and that we hope you will find helpful.
First, you may have heard that an election happened. If we normally try to stay out of politics in these updates, we are certainly going to do so now, so let's consider the economic implications instead. Democratic control of federal government may suggest certain inevitabilities, but the majority is slim and the prevailing ideology is more centrist than far-left. Therefore, we expect to see a combination of infrastructure projects & spending, more stimulus while the pandemic persists, increases in regulation of certain sectors (tech and banking among them), and a push towards green energy. Some corporate and high-income individual tax increases will likely be on the docket as well, though we believe the dynamics will not allow for sweeping tax increases or overly far reaching legislation in any area. Undoubtedly, certain Trump-specific policies will be undone quickly, but much of this will simply be a return to pre-2016 ways so at least it will not feel totally unfamiliar. All of these things will impact the economy and help determine how we all make decisions about money within our families and companies.
Next, we believe interest rates will be a major topic, with some possible mention of inflation as well. No surprise about interest rates being front of mind, but is inflation really still a thing?! There are some compelling data emerging, though only blips on the radar at this point, that may at least make it a topic worth discussing. Our friend Bruce Yandle highlights these in his latest report: the personal consumption price index rose to 3.7% in the third quarter of 2020, the spread between short-term and long-term debt is rising (albeit slightly), and the price of gold has dipped almost 10% since August. With the Federal Reserve signaling a 0% rate through 2023, we have the recipe for a possible long-awaited reappearance of inflation. If that happens, the Fed may be pressured to backtrack a bit on its bond purchases and other forms of support as interest rates will naturally need to rise. Our bottom line is that we expect interest rates to stay historically low for 2021, but some discussion about pressure on rates and inflation could appear.
Finally, entrepreneurship appears to be on the rise. In the third quarter of 2020, new business applications totaled around 1,556,000, which is almost double the average for the prior four quarters of around 870,000. This would not be the first time that a recession or unemployment shock led to an increase in business formation; indeed, some of the world's most valuable companies today were born in similar circumstances over the past 20 years. Encouragingly, these new businesses are the employers and innovators of the future and can provide the basis for very strong employment and GDP growth in the coming years. So we take heart, play our role in supporting, and watch with excitement to see what will become of people's business ideas in this decade as well.
As an organization, we learned incredibly valuable lessons in 2020 that will make us better for a long time to come so we bid the year farewell with a mix of gratitude and "don't let the door hit ya." With a new year arriving, one of the continuing themes for us will be Care. Our families, our Southern First teammates, and our clients are all huge parts of this approach and we intend to be here for you and for one another.
We always welcome the chance to talk through anything mentioned here, and we wish each of you a healthy and fulfilling 2021!