The Innovation Secrets of Steve Jobs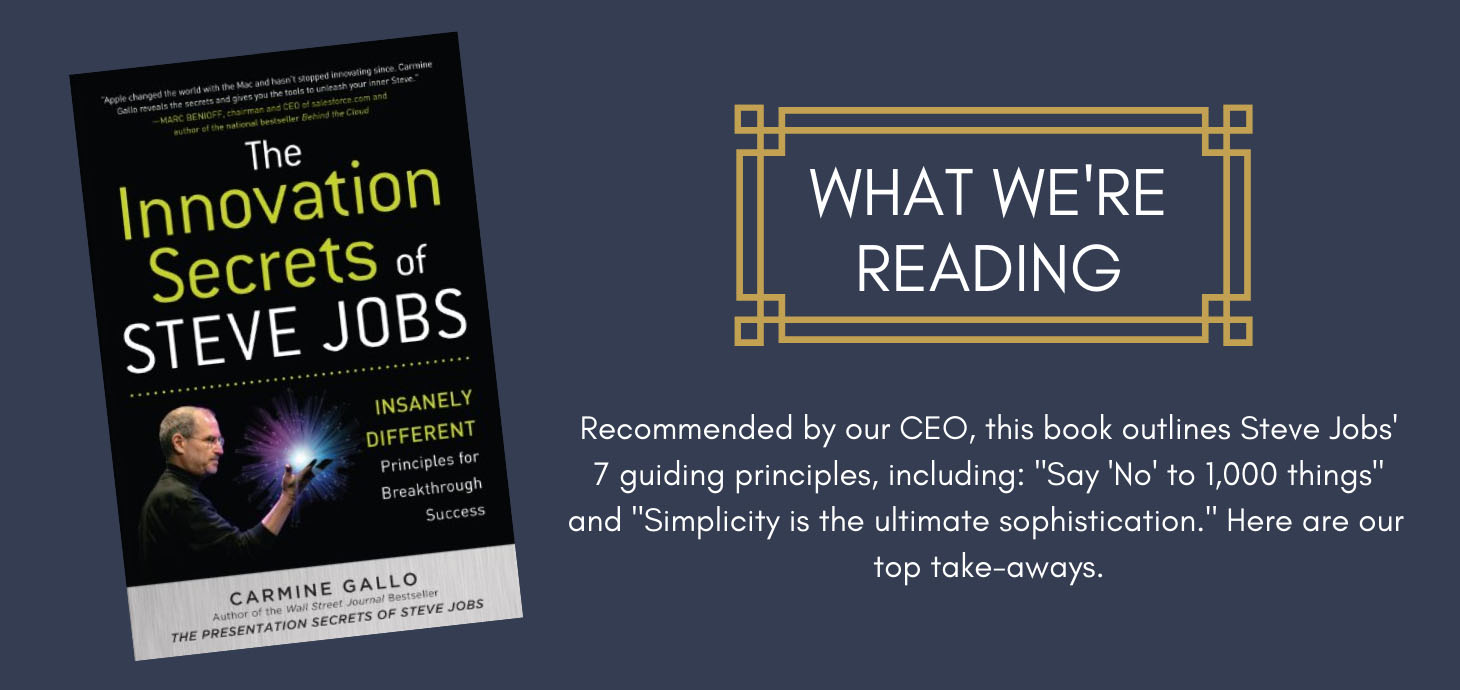 Here at Southern First, we're passionate about continuing to learn & grow. And between the holidays and the pandemic, you just might have a little extra time at home these days. So we thought we'd share one of our CEO & Founder's favorite books, The Innovation Secrets of Steve Jobs, by Carmine Gallo.
"Steve Jobs has always intrigued me as a leader and a visionary," Art said when asked about the book. "He thought outside the box, never gave up, and was willing to be an outlier in order to create an insanely great client experience."
Here are some of our key takeaways from the book.
Simplicity is the ultimate sophistication. In a world that badgers all of us with endless options and distractions, Jobs believed that consumers would respond to a core message of simplicity. "How can I make the customer's life easier, simpler, and better?" "It takes a lot of hard work to make something simple, to truly understand the underlying challenges and come up with elegant solutions… To be truly simple, you have to go really deep."


Give yourself permission to dream big and put a dent in the universe. Jobs challenged himself to create a vision for Apple that inspired him to get up every morning. He believed that visionaries had an insatiable curiosity, a desire to challenge the status quo, and realized that inspiration came from seeking new experiences. When Jobs and co-founder Wozniak founded Apple in 1977, they had a vision to "put a computer in the hands of every-day people." Little could they have anticipated the iPhone, iPad, etc. that now proliferate our world. Jobs also thought a leader's role was to inspire his team to help make that dream a reality. He believed that big and bold visions have a way of inspiring teams – that people get intoxicated with great visions.


See the possibilities that others do not. Jobs often referenced Henry Ford's comment on focus groups. "If I asked my customers what they wanted, they would say a faster horse!" Jobs believed that many times people did not know what they wanted until you showed it to them. But, "innovation sits in a lonely place because few people have the courage to dream big, pitch radically different ideas, and the conviction to follow through with their idea when they hear the skeptics say, 'It won't work,' Gallo writes. "Steve Jobs followed his heart and didn't let anyone stand in the way. 'Don't let the noise of others' opinions drown out your own inner voice,' Jobs once said. 'And most important, have the courage to follow your heart and intuition. They somehow already know what you truly want to become.'
This only scratches the surface, but if you're looking for an inspiring book to kick off your goals for the New Year, give this one a try and let us know what you think.